This year marks the 100th anniversary of the end of the First World War and what better way to introduce this important historical event to your pupils than through poetry. Our Curriculum Specialist James Ediker has put together a lesson plan on War Poetry for you to use as part of Literacy as well as History class.
Learning outcome:
– To develop pupils' ability to write and discuss poetry.
– To educate pupils' about the First World War and discuss its wider impact.
– To develop vocabulary associated with war.
Success criteria:
– Thoroughly evaluate the video clip and select relevant information.
– Independently write a war poem consisting out of 40 lines or less.
– Critically assess partners work.
Lesson introduction:
Show this video clip to pupils and ask them to think about what it would feel like to be a soldier at war or even involved in a battle…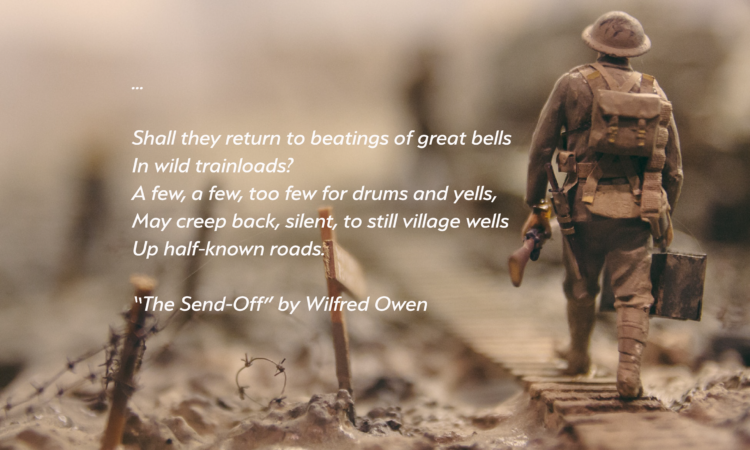 Tasks:
Pupils to ask themselves these questions:
What do you see?
What can you hear?
How do you feel?
What are you thinking?
What do you hope for?
What can you smell?
How might you react in this situation and why?
Pupils should work in groups or with a partner to review questions, or mind map their ideas.
Main task:
The main task of this lesson is to independently create a descriptive poem about a soldier at war. Encourage pupils to put themselves into the shoes of the soldiers.
To be successful in this lesson pupils have to:
• Use interesting adjectives to describe the sounds, sights and feelings of a soldier at war.
• Write no more than 40 lines.
• Every word in their poem has to be spelt correctly.
• The poem has to have a recognizable theme.
At the end of the lesson pupils will be peer assessing their work and using this check list to mark if their partner has been successful.
Group task:
Ask pupils to use this source and research types of poems, this will allow a better understanding of the genre.
Pupils need to select a type of poem be it:
Acrostic
Narrative
Sonnet
Alphabetical
Look at examples of the war poems in the journal so pupils get an idea of the type of language that they may wish to include.
Homework:
Research how the First World War inspired writers, consider and discuss how their work affected the wider world. Use this article to get started.
If you want a free demo or trial of any Britannica resources, just click here and one of our team will be in touch to arrange a time to suit you.
Tried it with your class? How did it go? Send us feedback on Facebook or Twitter and tag us @Britannica_UK.